For More Information
The latest iteration of the Pixhawk by Hex Technology and ProfiCNC, is the Pixhawk 2.1! Get Started on your road to Autonomy! The standard board does not come with the Intel Edison chipset nor is it compatible.
Features isolated and Dampened IMU reduces interference to sensors form padding filters high-frequency vibrations to the IMUTriple Redundant IMU with multiple gyroscopes, barometers, accelerometers, and magnetometers. Modular Flight controller – All inputs/outputs in a single DF17 connector.Built-in IMU heating systems allow flight at below freezing temperatures. Enhanced drop and shock resistanceUseful for many applications – VTOL, plane, multicopter, boat, sub, general roboticsIncludesThe Pixhawk 2.1 Cube with vibration isolated IMU.Standard carrier board. (Not Intel Edison compatible)One Power Module (For power redundancy, two power modules can be used.)Cable set that allows you to connect legacy telemetry radios, GPS, and various other sensors.Resources
Setup Guide
Data Sheet
CubePilot Visual Guide
CubePilot ecosystem
Made in Taiwan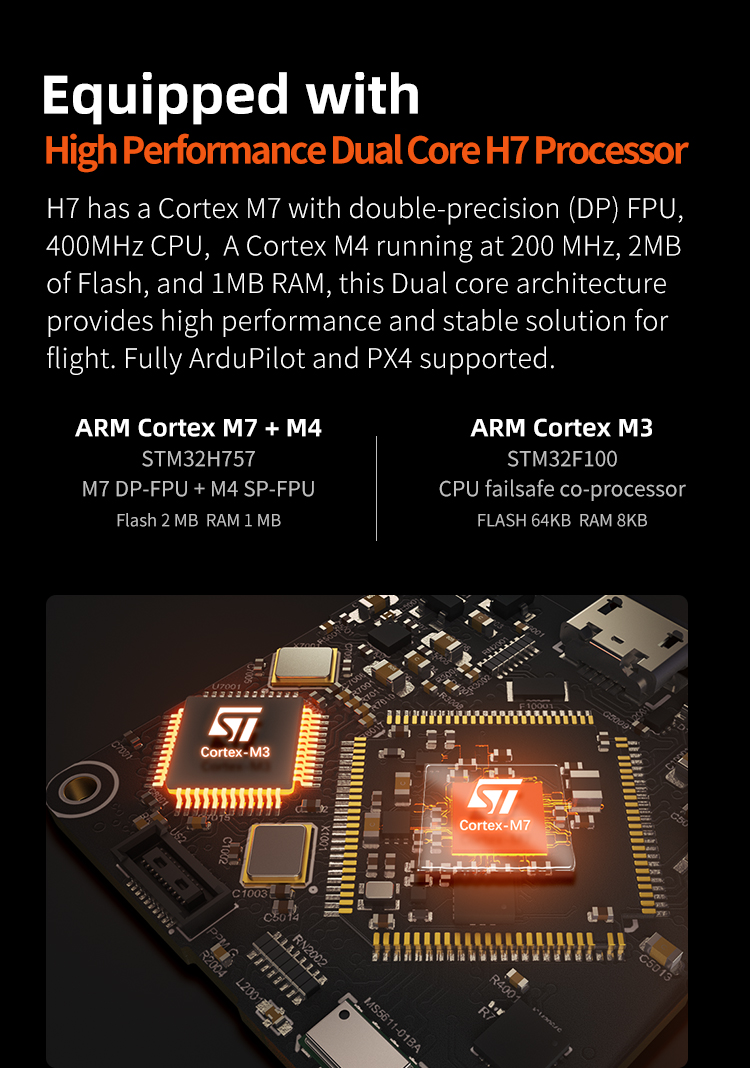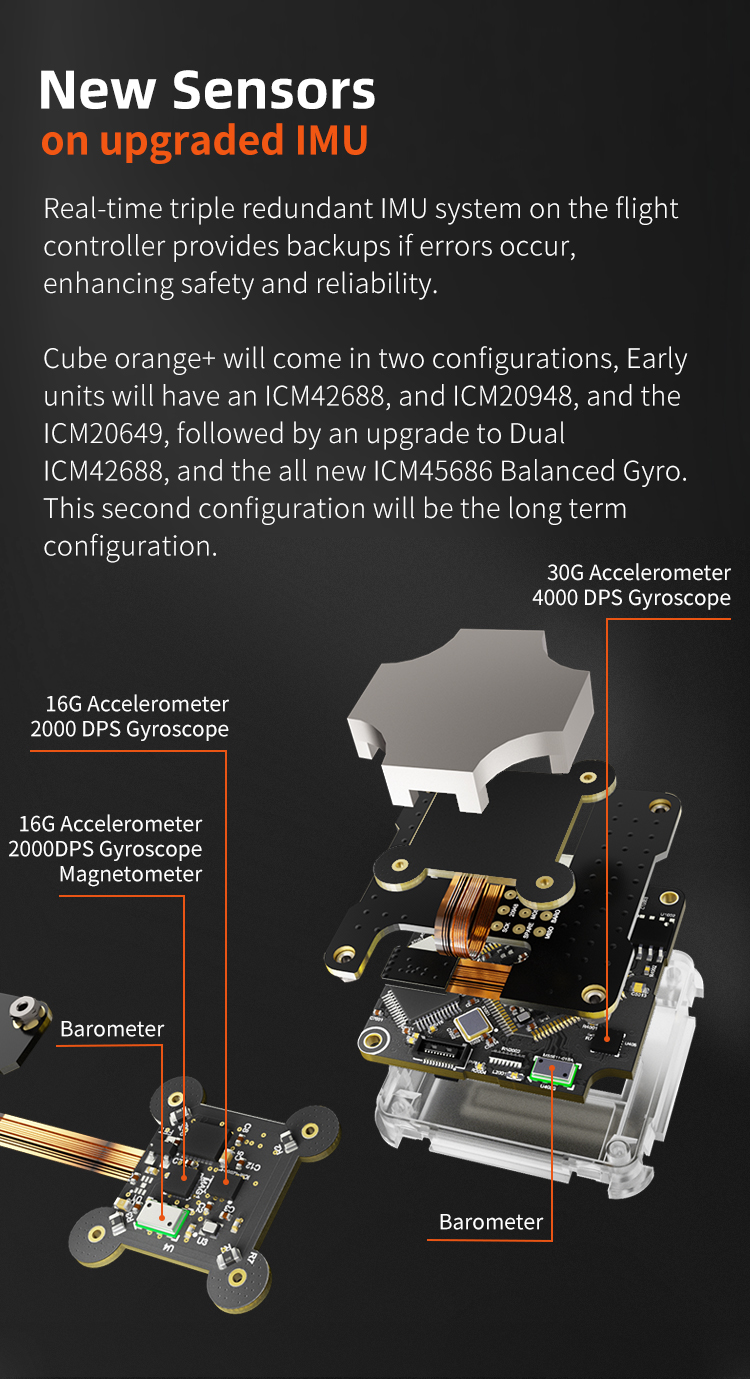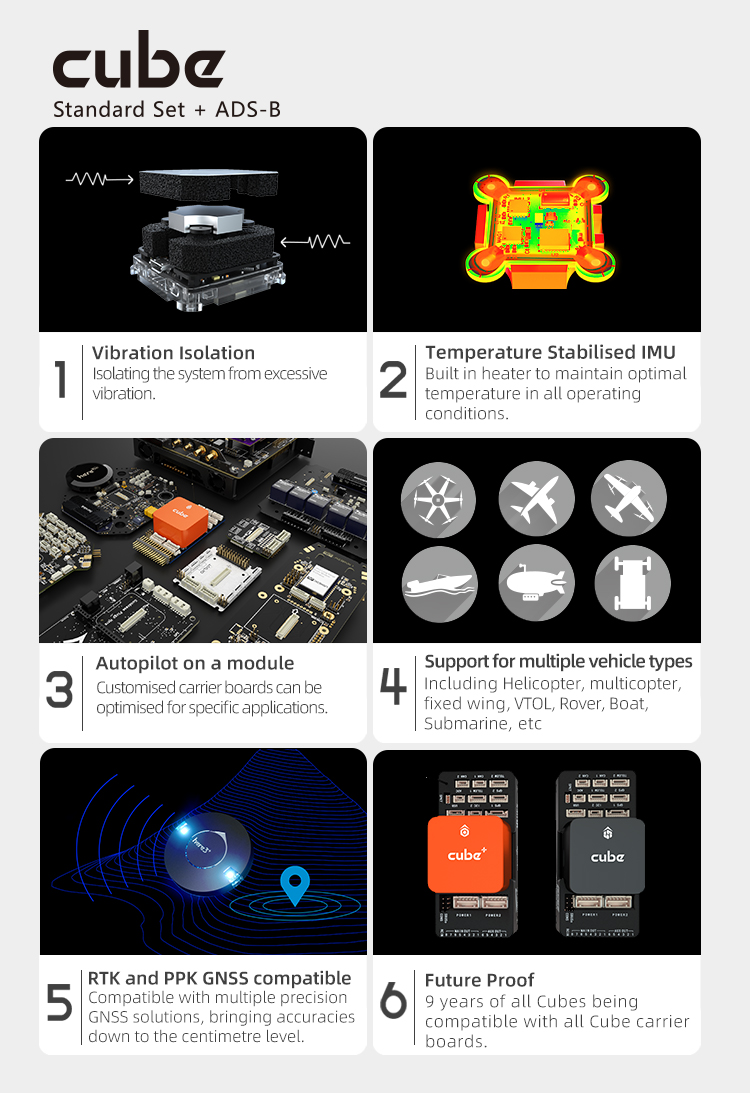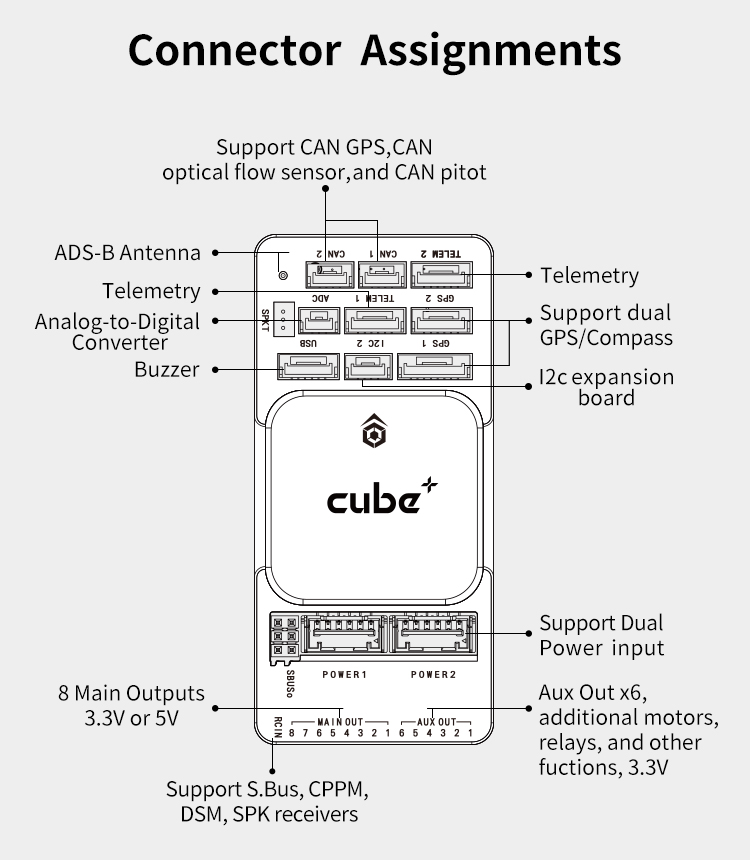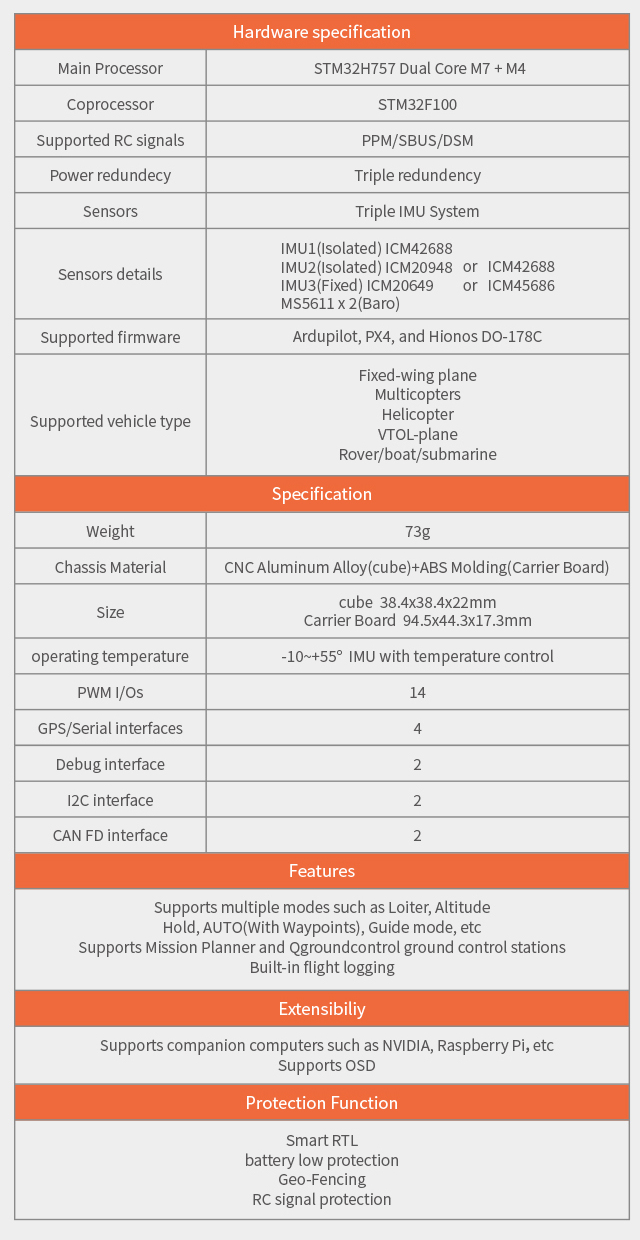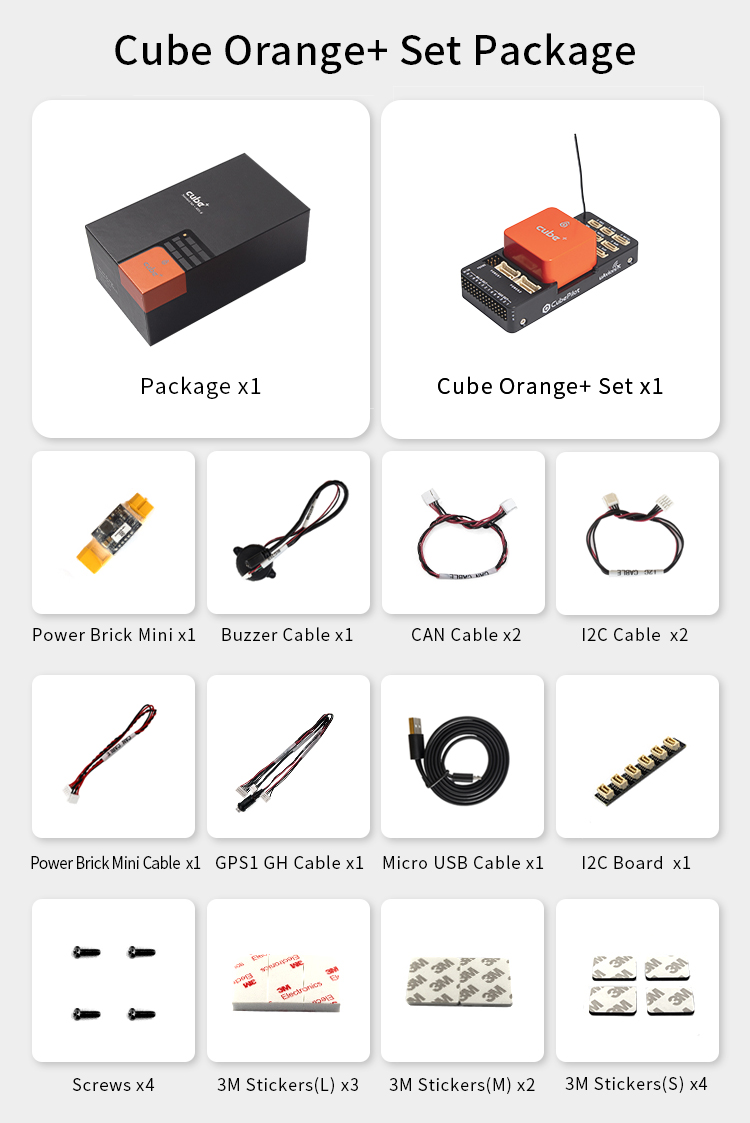 Important information :
Limitations : For products shipped internationally, please note that any manufacturer warranty may not be valid; manufacturer service options may not be available; product manuals, instructions, and safety warnings may not be in destination country languages; the products (and accompanying materials) may not be designed in accordance with destination country standards, specifications, and labeling requirements; and the products may not conform to destination country voltage and other electrical standards (requiring use of an adapter or converter if appropriate). The recipient is responsible for assuring that the product can be lawfully imported to the destination country. When ordering from Ubuy or its affiliates, the recipient is the importer of record and must comply with all laws and regulations of the destination country.

What is Cube Orange+ ?

The Cube Orange Plus is new autopilot from Proficnc / Hex which comes with ADSB IN receiver for detecting manned aircrafts flying near UAV / Drones. Cube orange Plus will be the new standard autopilot which will replace The Cube Orange and Cube Black as its components are almost reached their life.

The Cube orange come with H7 processor with extra memory for developers who want to run their own development code on The Cube.

What is ADS-B IN Carrier Board ?

ADS-B stands for Automatic dependent surveillance—broadcast (ADS–B) is a surveillance technology in which an aircraft determines its position via satellite navigation. ADS-B is used in manned aircraft. Now onward The Cube Orange will come with carrier board which will have ADS-B IN receiver builtin. This hardware will enable your UAV / Drone to identify any manned aircraft flying near by or approaching drone. Autopilot will detect detect approaching and it will automatically adjust its position so that no collision can take place.

ABS Molding ADS-B Introduction
A 1090MHz ADS-B receiver from uAvionix has been integrated into new ADS-B carrier board. Autopilot equipped with the new unmanned system can receive information about the location of manned aircraft in the area Information from aircraft including position,altitude, speed, id, etc can be viewed in Mission Planner. Through parameter setting, you can optionally set up your cube orange to allow the vehicle to automatically avoid aircraft Mat are detected in an exclusion zone set by you.

How to use new ADS-B IN Carrier Board?

Carrier board has built in receiver. With the help of mission planner if you are using Ardupilot or PX4 or any other firmware which is supported by mission planner you can configure parameters for enabling or disabling this feature. As of now this is optional but in future it might me mandatory to activate ADS-B IN for avoiding UAV /Drone fly near manned aircraft. This is restrict UAVs to enter into airspace which is for Commercial or Private airspace.

Specifications of The Cube Orange

Processor :

STM32H753VIT6  (32 Bit ARM  Cortex -M7, 400 MHz, 2 MB flash, 1 MB RAM
STM32F100 (32 bit ARM  Cortex -M3 24 MHz 8KB SRAM)

Sensors : 

Accelerometer  ICM20948 / ICM20649 / IGM20602
Gyroscope ICM20948 / ICM20649 / 10420602
Compass ICM20948
Barometric Pressure Sensor MS5611x2

Operating Conditions and Performance

POWER input voltage / rated input current :  41-57V/25A

POWER rated output/input power                  14W

USB port input voltage / rated input current  4-57V/250mA

Servo rail input voltage       33V/5V

Operation Temperature -10°C / 55°C

This Product is not waterproof. External waterproof protection is needed if you want to use it where there is chance of water make come in contact with this product.